NIHR Statistics Group Showcase Event
Published in
on
16 November 2016
The NIHR Statistics Group held a reception on-board HMS Belfast on Friday 11th November. The event was held to inform the senior NIHR infrastructure community of our achievements to date and to seek their views of our future plans. The event was Chaired by Professor Janet Peacock of King's College London who is also co-Chair of the Group along with Dr Victoria Cornelius of Imperial College London.
Speakers included Professor Graham Lord (Director of Biomedical Research Centre, King's College London) who talked about the role and importance of statistics in medical research, Professor Deborah Ashby (Director of the Clinical Trials Unit, Imperial College London) who talked about the importance of the NIHR Statistics Group, and Mr Mark Samuels who reflected on group achievements as viewed by the NIHR Office for Clinical Research Infrastructure (NOCRI). Dr Victoria Cornelius gave a presentation on the history of the group and its achievements to date. There were also presentations by each of the Statistics Group Research Sections. These were established by individual members of the Group in response to particular issues that NIHR statisticians face in their day to day jobs.  The Resear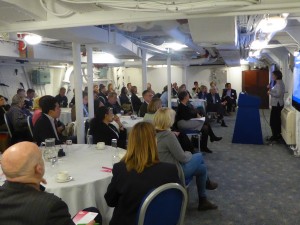 ch Sections have each taken different approaches to their particular issues and their presentations focussed on the decision making process and the results of their work so far. Following the presentations, delegates were invited to take part in a discussion session to share their views of statistics in the NIHR, how statistics and statisticians are supported in the NIHR and future challenges.
The event was held in the Company Dining Room on-board HMS Belfast. This is a retired Royal Navy Light Cruiser operated by the Imperial War Museum that is permanently moored in on the River Thames in Central London as a museum exhibit.
The agenda and slides from meeting can be found here.